Maximize

your Benefits
XLReporting is powerful, flexible, and easy to use. You can create your own reports and models without IT expertise.

Import your own data and start reporting and budgeting.

You can start with our standard reports and models and change them along the way. At any time.
Follow

your business

Define your own business structure, such as:
Companies and business units
Chart of accounts, cost centers, regions
Customers, suppliers, products
Transaction data, which can be financial and non-financial (e.g. quantities, headcount, hours etc)
Multiple data sources with integration
Multiple budget and forecast versions
You can define relationships and validation rules.
You can create data sets, reports, and models with a few clicks, and change them whenever you want. You can edit our default templates, or create your own configuration.
Improve

your processes

Control all your processes within XLReporting, with user-friendly reports and budget models. Full insight into your business and full auditability across all processes.
Actuals vs Budget analysis
Cashflow statements
Long-term planning
Budgeting and forecasting
Cashflow planning
Dashboards and KPI's
User access and workflow
Consolidation
Integrate

your data

Import data into XLReporting from any source:
Connect to QuickBooks, Xero, Exact Online, Twinfield, Visma, and many more systems
Files (Excel, CSV, XML, JSON) on your computer, or on Dropbox, OneDrive, Google Drive, Box.com, AWS
Import data directly from databases
Connect to any system that has an API
Choose from 40+ connectors
During import, XLReporting can filter, consolidate, validate, and calculate data.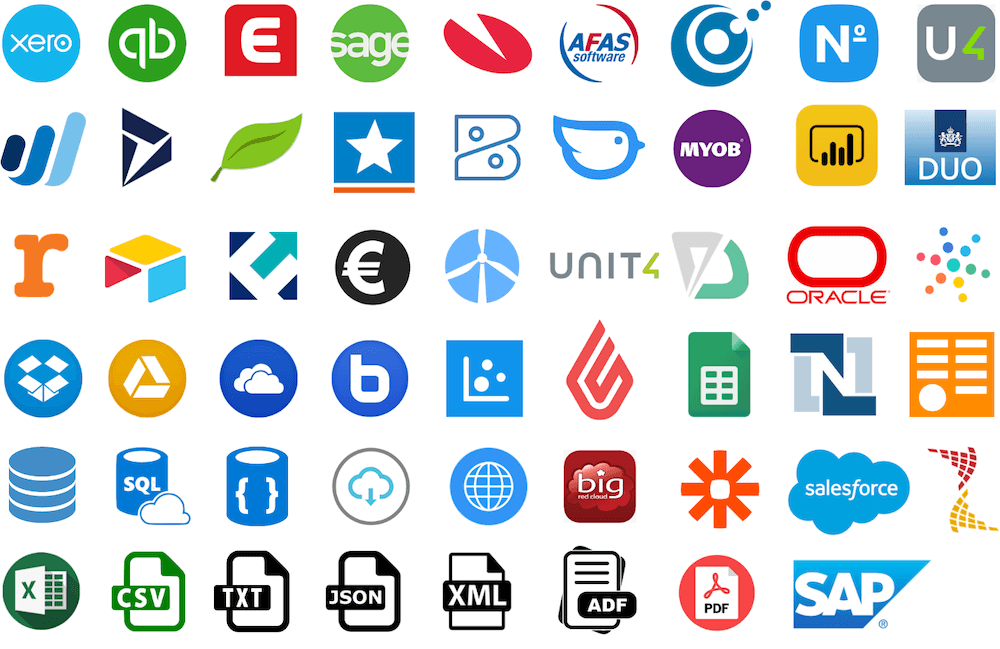 Manage

your budgets

Control the user access, data entry, underlying processes, business rules, and consolidation of budgets:
Multiple budget versions
Define your own budget models
Integrate realtime data into these models
Manage the review and approval workflow
XLReporting separates logic from data
Budget holders can enter their own data
Budget submission is controlled and auditable
Budgets are instantly consolidated
Automated variance reporting
Define

your reports

With just a few simple clicks, you can create your own models and reports, choosing from 30 visualization types:
Pivot tables
Interactive charts
Reports with grouping and subtotals
Drilldown and click-through reports
Spreadsheet-like templates
Treemaps and organograms
Dashboards and KPI's
XLReporting is easy to use and interactive. Users can define and change reports by simple point-and-click using our powerful pivot technology. All you need is a web browser.
If you have complex reporting requirements or calculations, you can use our Excel-compatible functions.
XLReporting combines the flexibility of a spreadsheet with the power of an integrated database, and with secure access controls.
Design

your models

XLReporting combines the flexibility of a spreadsheet with the power of an integrated database, designed for multi-use.
Create free-form reports and budgets models
Familiar user interface that looks like a spreadsheet
Toolbar with extensive functions for formulas and layout
Multiple sheets with full control over layout
Use Excel-compatible functions to create any formula and logic you need
Integrate realtime data in your models
Embed charts and KPI's in your models
Create data entry templates to save data into the database
Consolidate data automatically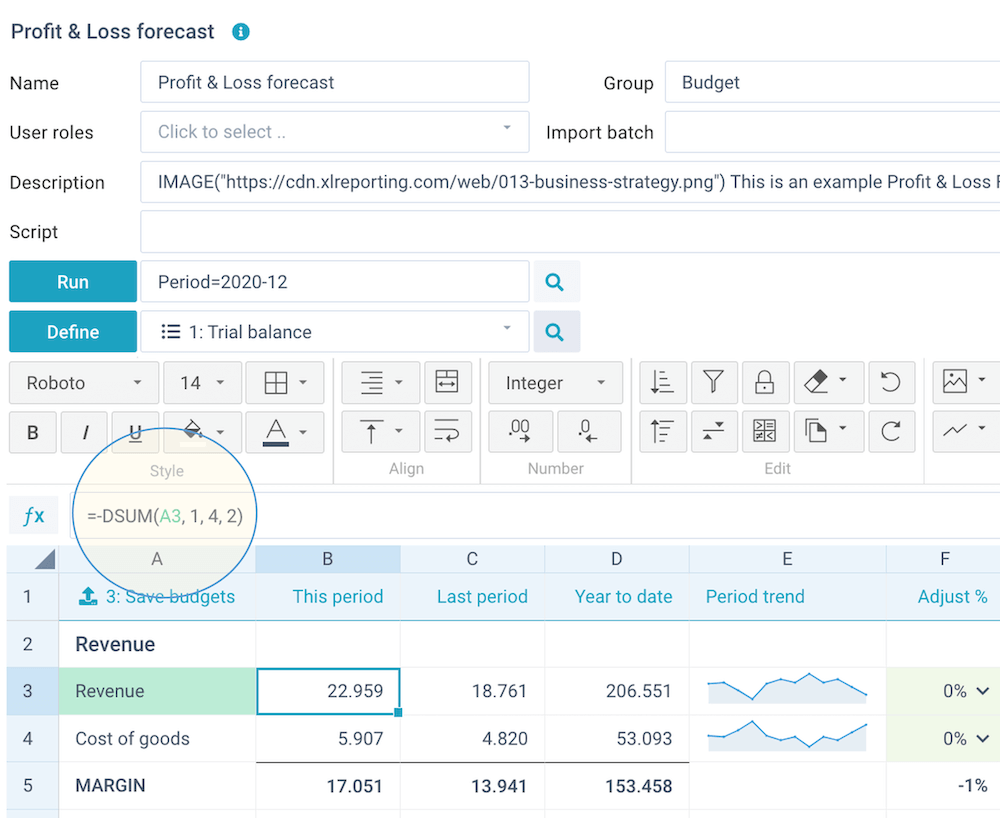 Protect

your data

Your data is sensitive and confidential, and XLReporting has been built to keep it that way:
Enterprise-grade user management
All your data is encrypted
Single database so data is always up-to-date
All actions of users are recorded by our systems
Your data is automatically backed up every day
GDPR and AVG compliant
Secure access controls
24/7 availability
Share

your results

You can create dashboards and share reports with your team members and management.

XLReporting combines the flexibility of a spreadsheet with the power of an integrated database, and with secure access controls.

All data is in one central place, stored securely, and always up-to-date.

You can control who can see your data with user permissions.
Value

for money

Our pricing is simple and transparent. You can choose self-service or we can do your setup together. All plans include all features with unlimited users and companies.
Essentials: if you want to use our standard reporting and budgeting templates.
Advanced: if you know what you want and you are good with spreadsheets and report design.
Assisted Setup: if you don't have enough time or if you want help with your setup. One of our experts will work with you in online meetings to guide you through the setup steps.
Full Setup: if you have complex processes that require a lot of design. Our team of experts will do the work for you.
Pricing starts at EUR 200 per month.
Power your budgeting and reporting
Let's discuss your requirements in a 30 minute video meeting.
Schedule your demo now.
Book a Demo
or
Try for Free
(no credit card needed)
We do not use cookies. We do not track your browsing activity. We are GDPR compliant.