Is your reporting
too complex

for spreadsheets?
More than 90% of all companies depend on spreadsheets for reporting.

Building reports using spreadsheets takes you a lot of time. You can do better.

XLReporting connects to your data, and automates your reporting.

So you can focus on what really matters.
Request A Demo
Watch a 1-minute Video
Connect

your data

Can't get the information you need from your accounting system? Are you using spreadsheets to do your reporting? It's time to switch to XLReporting.

XLReporting connects to your system or other data sources, and enables you to create your own reporting. It has connectors to 30 different systems and file formats and is integrated with Excel

XLReporting gives you automation, overview, and reliability at every step. That gives you confidence in your numbers and in your decisions.

Learn more
Xero
|
Quickbooks
|
Exact Online
|
All
Create

your own reports

You can define your own reports however you want. Combine information from different sources into reports and charts, in different layouts. Publish or share your reports, and set user permissions. You can choose from over 30 different visualisations.

Once created, you can run reports as often as you want. They will always contain correct and up-to-date numbers.

Some examples are:
Profit & Loss
Balance sheet
Cashflow
Sales report
Management report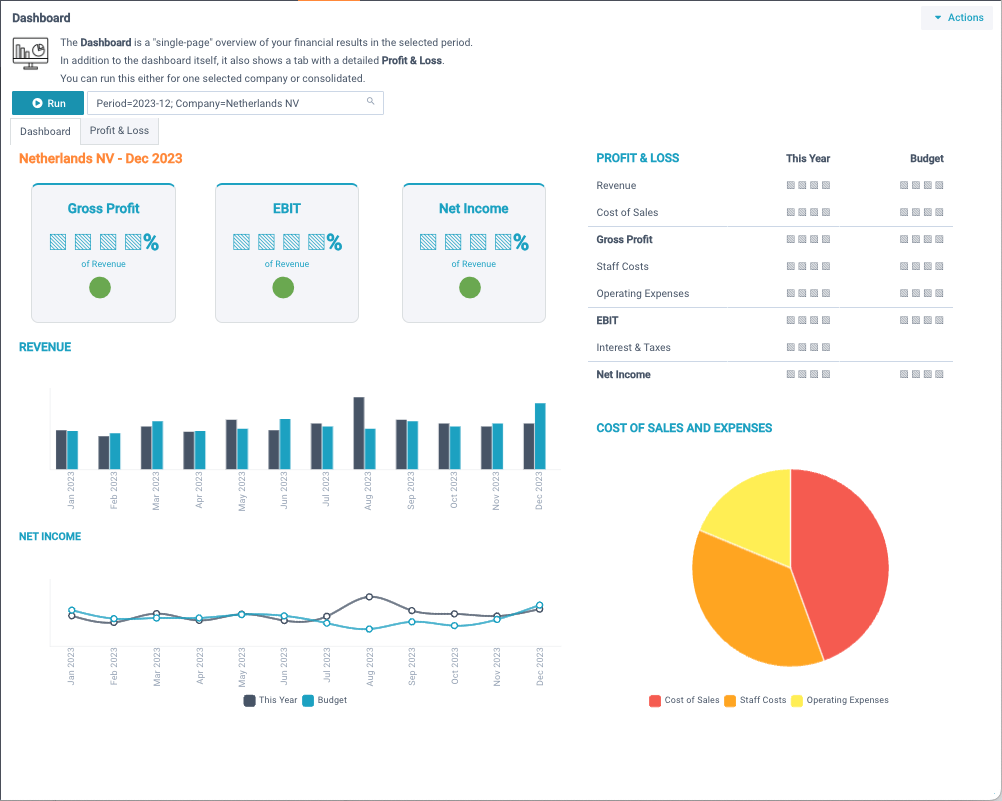 Automate Reporting
Connect to your accounting and other systems. No manual steps needed.
Discover the trends
XLReporting tells you where to look, what's ahead, and what to decide.
Follow your dimensions
Report on all dimensions in your business. Instantly and reliably.
Analyze

your numbers

XLReporting imports, validates, and enriches your data automatically.

This enables you to create automated reports with data from different sources. Your reports will always contain up-to-date and correct numbers which gives you total overview and control.You can compare actuals to budgets and forecasts. Combine financial data with non-financial data to report on business drivers and ratios.You can focus on analyzing your numbers and talking to the business. You'll have the answers ready before your're getting the questions.
Trust your sources
Integrate with your accounting and other systems. No manual steps.
Slice and Dice
Drill down into your numbers at the click of a button.
Have the answers
Have the answers before your're getting the questions.
Take a 360° view

of your business
Connect your data
Enrich your source data for optimal reporting.
Design your reports
Easy-to-use editor with rows, columns, and formulas.

View all dimensions
Report on all dimensions in your business.
Combine any type of data
Combine any financial and non-financial data.

Visualize your data
Choose from 30 different report and chart types.
Share and protect
Control who you give access to your information.
Improve your reporting
Let's discuss your requirements in a 30 minute video meeting.
Request your Demo now.
Request A Demo
or
Start A Trial
(no credit card needed)
We do not use cookies. We do not track your browsing activity. We are GDPR compliant.